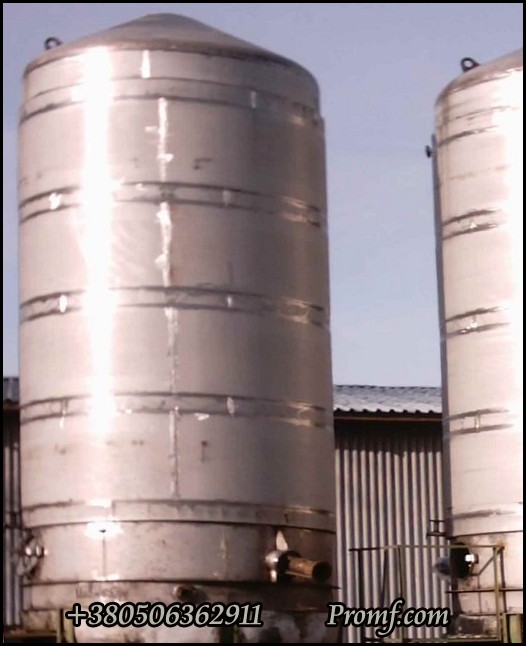 Tanks with a jacket with a capacity of 50 m3, 35 m3, grades A9-KEN and A9-CES are intended for accumulation and storage in aseptic conditions juice from grapes and apples in factories for processing of grapes and other liquid foods.
THE DEVICEAND PRINCIPLE OF WORK:
The tanks consist of the following parts: tank, tank, the cross pipe, cover, reliance, device cleaning, truck, drive.

The tank is a vertical cylindrical thin-wall stainless steel construction, mounted on six pillars and consists of cylindrical shell, shirt, top, bottoms and lower bottoms. (tank A9-CES without a shirt).

Shirt is welded to the cylindrical shell and has an inlet located at the bottom and the outlet located at the top of the shirt. The pipes are used for inlet and outlet of the cooling brine. The bottom is conical with a flange with cone angle of 120º. On the conical surface of the upper bottom is the entrance to an overflow pipe at a height that ensures the filling of the vessel with product. On the bottom the bottom is an outlet that serves for the loading and unloading of the semi-finished product, and also for draining the water or cleaning solution in the sanitize tank.
The neck is provided with shutoff valves, with four valves and a directional pad. At the tops bottoms bottom mounted pressure gauge with diaphragm separator, showing the height of the column of product in the tank. The reservoir includes a conduit for decantation of the juice, which connects the valve with the lower part of the cylindrical shell of the tank.

For washing tank and penetrate, if necessary, working inside the tank, a manhole, located in a cylindrical shell at the height 2345 mm from floor level. At the level of the hatch at diametrically opposite sides of cylindrical shells installed two drives (agitators) serving for mixing the juice during its processing. Near the inlet into the jacket on cylindrical shell installed a thermometer showing the temperature of the juice in the tank and having output terminals for position throttling flow of the cooling brine in the jacket of the tank.

The lower end of the overflow pipe is connected to the tank that has the shutoff enamelled diaphragm valve, safety valve, vacuum pressure gauge with diaphragm separator, level gauge and pressure relief device consisting of the upper membrane, lower membrane, substrates, rings, covers. Bearings in the bottom end with the connections with holes that serve for fastening them to the Foundation. To the upper bottom of the tank welded to the sling device.
Work with reservoir involves the following technological processes:
sanitary treatment;
download prefabricated to the tank;
оprocessing of the material;
unloading of the semi-finished product from the reservoir;
maintenance of the reservoir the operator III category.
Technical characteristics of the installations

Name of parameters

А9-КЕН

А9-КЕС

Useful capacity,m3, notless

50

35

50

Overall dimensions, mmnotmore
length
width
height


4600
3700
9000


3100
3100
6700


3700
3600
9000

Mass, kg, not more

5500

3500

3600

Automation coefficient, not less

0,8

Occupied area, m2, not more

17,02

9,61

13,32

Installed power, kW

5

Energy consumption, kW*h

4,8

The temperature of the juicein the tank, ºC

-1...+3

The flow rateof the coolingagenttemperature
above 20oCat a temperature
environmentno higher than18ºC, m3/h

15

Setthe resourcetocapital
repair, no less than, h

50000

Fixed a resourcefull, h

400000

Installed failure operating time, h

3600