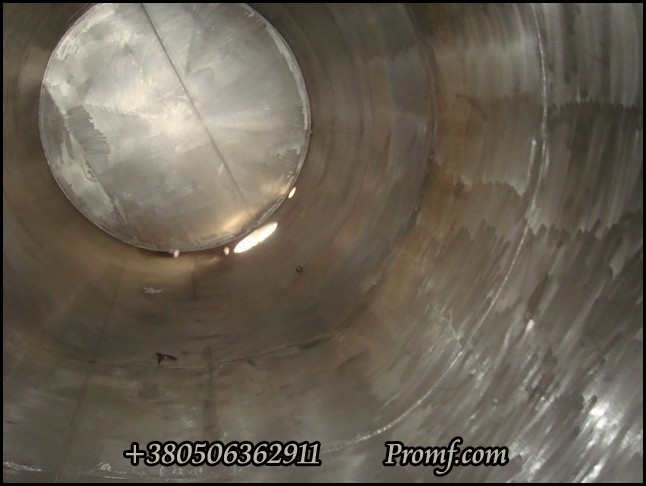 Purpose and scope of the tanks В2ОХР
Tanks В2-ОХР designed for storage of chilled to 6-8°C milk to the dairy plants. Tanks in stalled out doorsat an ambient temperature of +40°С.
Describe the construction
and principle of operation
A reservoir for storage of milk is a double-walled vertical cylinder with flat bottom, made of food grade stainless steel, the annular space which is filled with thermal insulating material. The thermal insulation capacity should not change the initial temperature by more than 2C for 24h. when the temperature difference between product and ambient 21C and the filling up to 25% of its nominal volume.
The tank shell is welded construction consisting of a cylindrical shell, top and bottom flat heads, sectors, connected by vertical rods, belts, welded to the sectors on the diameter of the tank.

The tank is equipped with the necessary instrumentation, placed in the Cabinet, stirring and washing devices. The stirring of milk is carried out by means of a centrifugal pump, two jet nozzles and pipes.

Jet nozzles are located at different levels along the height of the tank and have a different inclination to the horizontal, which provides a more intensive mixing of milk within the tank. The milk from the tank being sucked into the pump and through the jet nozzle is injected into the same reservoir. The tank is located outdoors on the Foundation.

The tank is filled with cooled milk through pipe filling, emptying, located at the bottom of the tank, which eliminates the foaming. The milk is stored over time, given technological regime dairy enterprise. During storage the milk is stirred periodically after certain time intervals by means of a centrifugal pump, two jet nozzles and pipes.
Technical characteristics of tanks В2-ОХР-25 В2-ОХР-50 for milk storage
В2-ОХР-25

В2-ОХР-25

Capacity

, DM

/

cube

:


geometric

27000
52000
working
25000
50000

Internal

diameter, mm

300
3000

The measurement of the amount

of milk

continuous
continuous
Mixing device
inkjet
inkjet

Elektricheskogo

power consumption

of pump

, kW

5,5
10
Overall dimensions, mm
4800x3250x4610
4965x3450x9250
Маss, kg
4275
8550