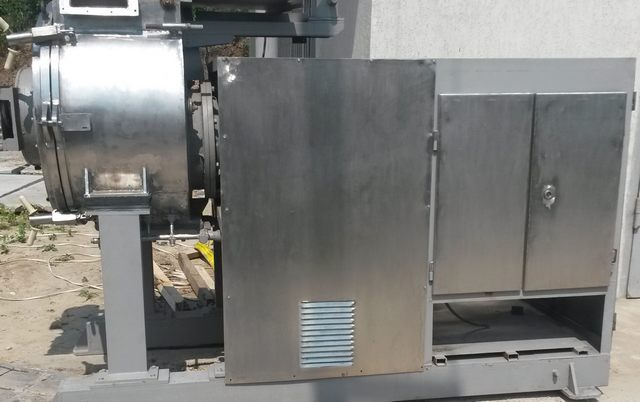 The STEPHAN Combicut TC System is a multifunctional machine. It is in use successfully for a wide range of applications in the food industry. Besides cutting, mixing and dispersing, heating and cooling can be done in the same system. The integrated vacuum system avoids oxidation and ensures a high product quality
Advantages for your Production:
Short batch times
Homogenous mixing
Efficient cutting
Gentle as well as effective heating
Constant specific weight
Optimal powder dispersing
Oxidation is avoided
Stable emulsions
Constant product quality
Combicut System Stephan TC 300
The STEPHAN Combicut TC combines several process steps in one machine. These are cutting, mixing, dispersing, heating, cooling, deaerating and emulsifying.
The horizontally placed mixing drum in the basis of the machine. A set of cutting and emulsifying knives is driven through the back plane by the main motor, whereas the mixing arm with scraper is activated by a motor through the front cover. The machine is charged by a slide and / or pipe connections. Discharging is done via a slide or a bottom seat valve.
The STEPHAN Combicut TC can be equipped with direct steam injection nozzles and / or a jacketed drum. It can be completed by powder hoppers, liquid vessels, liquid metering systems, a lifting / tilting device, a STEPHAN Microcut and a discharge wagon.
Convenience Food
Mayonnaise
Ketchup
Horseradish
Sauces, Dressings
Dairy
Meat / Fish
Bakery
Dough preparation (TK)
Confectionery
Marzipan
Technical data Stephan TC 300 Combicut system
| | |
| --- | --- |
| Name specifications | Value |
| Drum size | 300 l |
| Batch size | 100 - 220 l |
| Capacity (heavily dependent on product) | up to 1200 l |
| Performance depending on the product and process, kg/h | 500-1000 |
| Max. operating temperature | 95°C |
| Energy consumption kWh/h | 50 / 58 |
| Installed capacity, kW | 75 |
| Number of curd to be loaded in the camera, kg | 190 |
| Steam flow, kg / h | 130 |
| Tap water consumption, m³ / h | 1,1 |
| Compressed air consumption, m³ / h | 0,2 |
| Footprint, m | 12,3 |
| Overall dimensions, mm | 3500х2800х3200 |
| Weight, kg | 4400 |
Processes:
Cutting
Mixing
Dispersing
Emulsifying
Direct + indirect heating
Deaerating (Vacuum)
Cooling