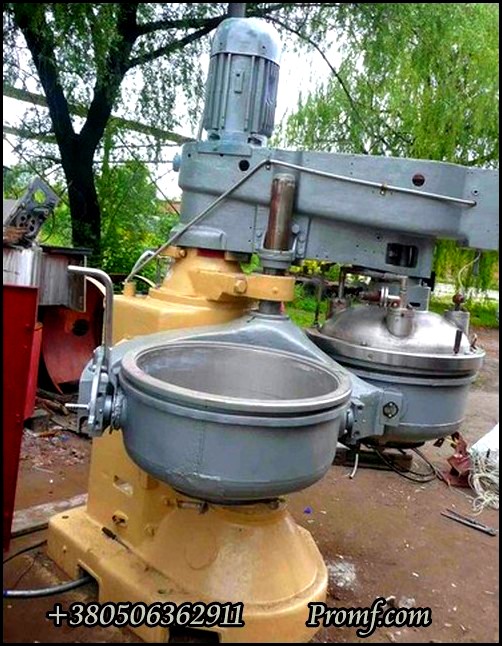 Apparatus for melting cheese curd Б6-ОПЕ-400
Phone: +38 050 63-62-911, Viktor
Usage
A plant for melting cheese mixture of the Б6-ОПЕ-400 brand is designed to melt cheese mixture in the manufacture of a processed cheese.
Description
It consists of a boiler, which is a cylindrical bowl with an elliptic bottom, boiler cover, mixer's drive, bed with lifting mechanism for boilers), communications, electrical equipment.
Melting is carried out by steam, which is supplied directly to the cheese mixture and to the boiler jacket. The melting process is carried out periodically alternately in each boiler. The process of melting cheese mixture under vacuum is possible – it is to remove the sharp smell of cheese.
Technical features
| | |
| --- | --- |
| Feature | Meaning |
| Performance on the molten cheese mass (for the duration of the melting cycle, 15 min.), Kg / hour | 400 |
| The number of boilers, pcs | 2 |
| Weight of the cheese mixture loaded into one boiler per melt, 100 kg | 100 |
| The melting temperature of the cheese mass, C | 80...90 |
| The frequency of rotation of the mixer, s: 1/2/3 | 1.43/1.75/2.88 |
| The pressure of steam supplied to the cheese mixture, kPa, no more than Д | 250 |
| The vacuum in the boiler, kPa | 40...50 |
| Steam consumption, kg / h | 48 |
| consumption of a cooling water , l / h | 180 |
| Electricity consumption (with the vacuum pump installation), kW , кВт | 12 |
| Overall dimensions , mm | 2200х1800х2700 |
| Weight, no more, kg | |