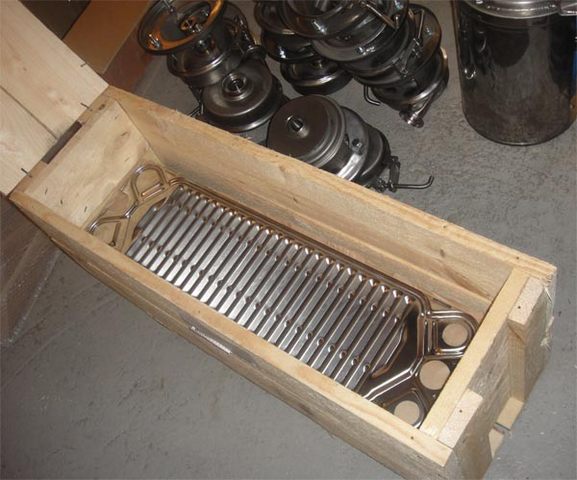 Types of plates and their fields of application
Principle «Off-Set» allows to create both symmetrical or asymmetrical channels (1)
Special relief of distribution site distributes optimally heat-transfer agents (2)
Easy fastening seal to the plate through the Clip sealing system with special clamps for optimal alignment and fixing plate package (3)
Double seal with piping leak completely prevents mixing of media in the passages (4)
Special edging relief of the plates provides the necessary rigidity of the plate package, and stable fixation of the seals in the provision of pressure on them during the operation of heat exchangers (5).
Most of the sizes of all the series of heat exchanger plates used in the manufacture of heat exchangers are of four different profiles: H, L, G, K. Corrugation on the profiles differs by groove width and angle of the chevron. The plates haveasymmetrical relief structure, due to which, unlike conventional symmetric reliefs, the number of possible combinations of heat exchange channels different heat transfer and hydraulic characteristics significantly increases.
Plate view from the seal:

Profile H

groove - wide

the angle of the chevron - blunt

Profile L

groove - wide

the angle of the chevron - acute

Profile G

groove - narrow

the angle of the chevron - blunt

Profile K

groove - narrow

the angle of the chevron - acute

Series FP
Types of plate heat exchangers APV
The basis of heat exchangers of the TEPLOTEKS production is standard series of plates of the famous Danish company APV with a different profile of the working surface and an area of 0,018 m2 to 4.75 m2.
The channels formed by the plates APV, have a slightly larger cross section than those of the other companies. Therefore, when using hot water supplies they are contaminated more slowly with poorly prepared tap water.
All APV plates havedistribution area of coolant across the width of the channel that is very carefully done. Special notching allows you to align the resistance along the width of the channel and provides an even flow over the working surface of the plate.
The plates of the same size may have an angle of inclination of the corrugations to the horizontal axis 30o (the so-called "hard" plates) and 60o («soft" plates). Rigid plates are characterized with high thermal performance and greater pressure loss, soft plates - are characterized with less thermal performance and lower pressure losses. Hard and soft platesmay be used in one apparatus. This is another way to get as close to the set performance and acceptable pressure losses at a minimum heating surface.
"Teploteks APV" manufactures heat exchangers based on 16 types of plates APV (Table 1), specifically designed for the needs of the power system and industry. The unit capacity of the heat exchanger "Teploteks APV" is in the range from 20 kW to 60 MW and maximum operating pressure of 2.5 MPa (25 atm), the maximum operating temperature of 200 ˚C.
Типоразмерный ряд пластинчатых теплообменников ТЕПЛОТЕКС АПВ представлен в табл. 1
Standard series of plate heat exchangers TEPLOTEKS APV is shown in Table. 1
Gasket Material - NBR rubber

Collapsible, one-way

Max. Operating Temperature - 110 °

Material of plates - steel AISI 316

The gasket material - rubber EPDM.

Plate

thickness

- 0.5-0.7

mm

Max. Operating Temperature - 150 °

Operating pressure - 1-2.5 MPa

The gasket material - rubber VITON

. Max. Operating Temperature - 200 °

type of heat exchanger

U2

T4

TR1

SR2

H17

N35

Q030

Q055

Q080

A055

A085

J060

J107

B110

B205

S380

Max. flow rate, kg / s

1,83

4,82

5,56

11,8

22,2

30,6

47,1

47,1

47,1

103

103

247

247

415

415

1132

The diameter of the fittings, mm

20

25

32

50

65

80

100

100

100

150

150

200

200

300

300

500+

The surface of the plate, m2

0,02

0,04

0,06

0,17

0,17

0,35

0,3

0,55

0,8

0,55

0,85

0,52

0,99

1,1

2,05

3,8

Max. surface of the heat-exchanger, m2

1,13

2,12

4,27

8,43

8,67

52,5

60

149

200

165

255

204

387

600

1200

3080

Table 1 - Technical characteristics of plate heat exchangers, gasketed
*