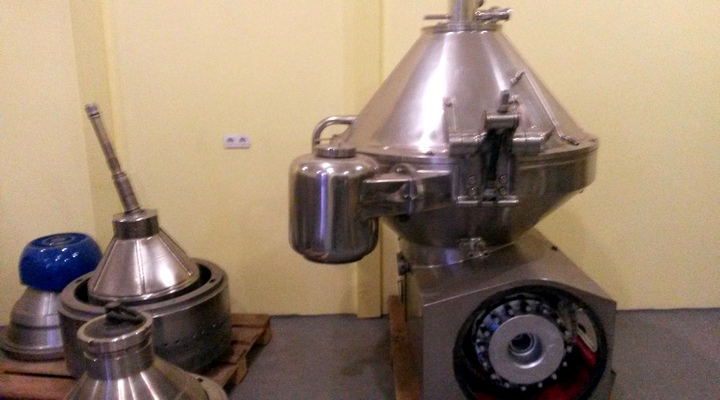 Centrifugal separators KMA Artern GmbH Nagema characterized by high separating ability, for clarification of beverages and for degreasing and cleaning of milk and whey.
separators KMA GmbH for dairy industry
Cleaning and degreasing milk
Cleaning and degreasing serum
Residual fat content by the Gerber method - in 0.01-0.03% skim milk, defatted in serum 0.02-0.04% (with a residual protein content of 0.05%).
Drive cage
The drive cage is provided by a standard three-phase AC motor (380 V, 50 Hz) via a frequency converter. Depending on the performance separators are of different types of structures: direct drive, drive through a gear train, belt drive.
Approach and retraction of the product
Closed supply system prevents contact of the product with the environment. Discharging purified / non-fat product is produced under pressure with grapple/s. The maximum pressure on the flue 5 bar.
Drum Separator
The separator is equipped with a self poppet drum with a high separating ability and optimized hydrodynamics in the area of ​​the milk. The design of the separator enables the automatic partial and full discharge of sediment according to the selected program, allowing continuous processing of the product.
Regular inclusion of the separator cleaning (CIP-cleaning) guarantees the purity of all parts having contact with the product, without the laborious manual cleaning.
Material
All parts having contact with the product, sediment control and water are made of high-alloy stainless steels (1.4418, 1.4462, 1.4552, 1.4581, 1.4301, 1.4401) - polished. The separator body is cast from gray cast iron and clad with stainless steel.
Control system
Management separator through the programmable controller (type Siemens S7) and operates in an automatic mode separator. To ensure smooth monitoring and control of the engine control system is installed
frequency converter (type Danfoss).
Features:
Management and control of engine start-up
Switching from "Acceleration" to "Operation" mode, depending on the speed and current
Automatic opening and closing of the drum at the partial or total unloading of the separator according to a pre-selected program or manually
Control functions (control of motor speed, power consumption, control of water pressure, discharge, gas valve, etc.).
Hand maintenance functions, safety shutdown