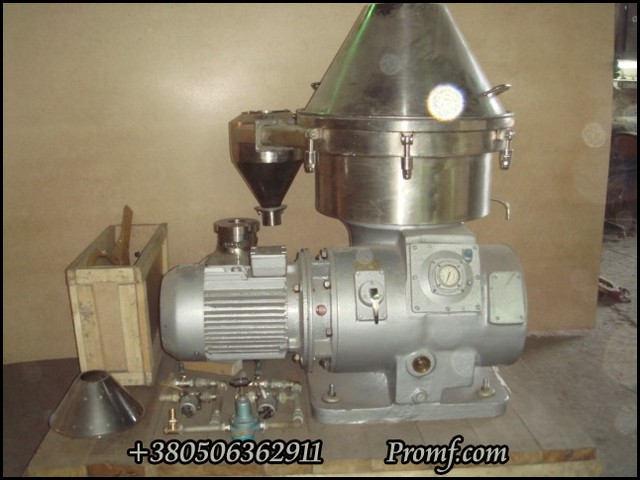 Separator is assigned for cleaning of cold milk from dirt and milk mucus. It is used at SME of dairy industry. It may work in pasteurization-cooling plant with productivity 10000 litres per hour. Separator may be used for cold cleaning of milk in production of curd and other kinds of dairy products.
PRINCIPLES OF OPERATION:
Separator consists of driven bed, bowl, delivery device, sludge receiver, separator lid, automatic control system. Separator Construction: with a half-shut centrifugal periodic discharge of sludge. Milk is supplied through delivery to a bowl and it fills spaces between plates, where it is cleaned. Under the influence of centrifugal force dirt and mucus settle on an inside wall of a bowl (in a mud space). Discharge of sludge is realized partially or fully in working condition of a separator in a predetermined time intervals under the influence of centrifugal force.
Cleaned milk goes to pressure chamber, where from it is discharged under the influence of pressure disk in closed pipes into production supply pipeline. Separator may be switched into the wash without disassemble. Work of the separator, its discharge and wash is controlled by local control system automatically.
MATERIALS
Bowl, delivery device, cover with sludge receiver made of stainless steel. Driven bed (made of steel or aluminium), covered with epoxy enamel or sheet stainless steel.
TECHNICAL FEATURE:
Productivity liter/ per hour 10000
Frequency of a bowl rotation of the separator, rpm 6000
discharge pressure of a product 6*10 Pa
electric motor with a capacity 11 kilowatt, voltage 380 watt,
Frequency of a rotation, rpm 1500
Overall dimensions, mm
length* width* height mm 1140 х 780 х 1460
mass, kg 1250
TECHNOLOGY DATA
Net weight, kg 990
Gross weight, kg 1130