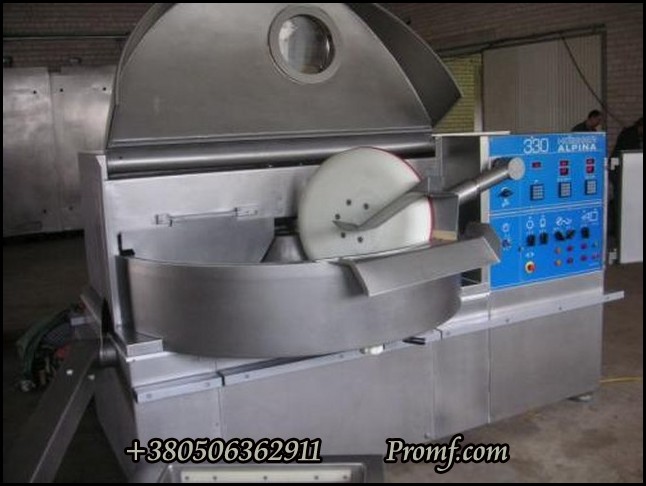 Cutter vacuum ALPINA PBV-330 1110 DC – is universal plant specialized for each individual case of plant use. Operator controls cutting process through solid soundproof cover made of acrylic glass of 4 cm. thickness. Loading and unloading reduced duration due to the new design of sighting cover and due to coordinate movements increases productivity significantly.
Features
Bowl size: 330 l
Bowl: solid, stainless
Surface: stainless
Vacuum equipment: built-in the plant
Knifehead: hydraulic for cutters M55
Loading: for minced meat trolley 200 l
Displacer: hydraulic, with smooth control
Drive: direct current with smooth speed control.
Bowl drive: 4 speeds
Mixing: controlled direct or backward motion with direct current drive
Cutter drum brake: electric
Digital thermometer: built-in cover
EDA: Electronic Design Automation
Maintenance: central lubrication
Technical features
Cutter drum rotation rate: 540-4500 rpm
Bowl rotation rate: 3.5/6.5/10/13.5 rpm
Displacer rotation speed per minute 93
Motor Capacity:
Cutter drum 135 kilowatt;
Bowl 1,1 kilowatt;
Hydraulics 3,3 kilowatt;
Vacuum, 4 kilowatt;
Weight 7800 kg.
All kinds of industrial equipment are provided with: sale and delivery, warranty, assembly, service.