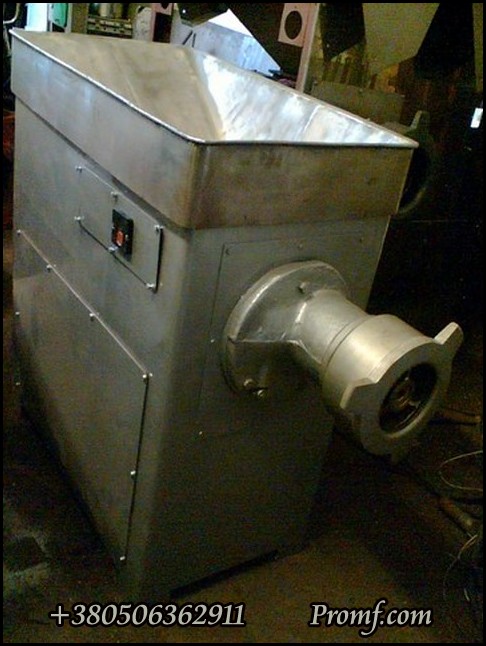 Meat mincer К7-МП-160 is assigned for mincing of cooled trimmed meat with its supply to screw conveyor with the help of cone-shaped inclined supply screw conveyor. Input reduction ratio depends on diameter of holes in output cutting plate. (3-25 mm).
Operating screw drive : gearless, two-speed motor, 18,5 and 23 kilowatt, belt transmission consists of 8 belts of section B.
Cone-shaped screw drive: two-speed motor, 2,2 and 2,65 kilowatt, orbital reduction gear, chain drive. 4 revolution variants of operating and supply screw conveyor for selection of grinding rate depending on feed stock initial condition.
Meat mincer body is without farmhouse, on 4 isolation pads, it has hard ground for gear attachment. Bowl is welded to side walls, mincer body is bolted on the bowl flange. There are two side doors. Toolbox, hinged cover of cutter plate and folding operating platform are fixed at the front wall. When cover is opened or operating platform is folded, meat mincer startup is impossible. Lever ejector of operating worm is fixed on the backwall. There is a survey mirror for inner bowl.
| | | |
| --- | --- | --- |
| TECHNICAL FEATURE | Unit of measure | Figure |
| Productivity | kg/hour | 5000 |
| Cutter plate diameter | mm | 160 |
| Bowl capacity (bunker) | liter | 250 |
| Raw materials load height | mm | 1580 |
| Unloading height of chopped material | mm | 880 |
| Engine capacity of operating screw drive | kW | 18,5; 23 |
| Operating screw rotary speed | rpm | 160; 320 |
| Engine capacity of supply screw drive | kW | 2,2; 2,65 |
| Supplyscrew rotary speed | rpm | 21; 42 |
| Length | mm | 1200 |
| Width | mm | 1460 |
| Height | mm | 1580 |
| Mass | kg | 900 |