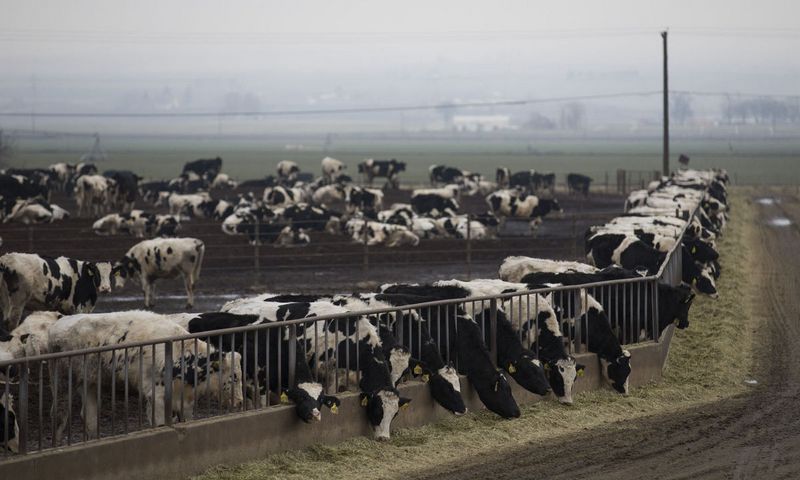 With the specter of being sued for alleged pollution hanging over Yakima Valley dairy farmers, a bipartisan Legislative proposal to create a new water protection permit is being billed as a solution.
Coming as the state seeks to update its existing permit to cover more farms and increase protection of groundwater, the proposal is creating an unusual debate with the industry in favor of a new permit while environmentalists oppose it, saying it weakens water protections.
The measure, House Bill 2840, co-sponsored by Rep. Bruce Chandler, R-Granger, directs the state Department of Ecology to create an alternative state permit to its existing permit for large livestock operations.
The existing permit contains provisions from both state and federal water quality laws. While both the existing and proposed permits would be largely similar in regulating how dairies must protect water from manure pollution, the proposed new state permit would be the "preferred alternative," because it wouldn't include a third party right to sue, said Jay Gordon, policy director with the Washington Dairy Federation.
"I don't know any farmers who are excited to get another permit or more regulations, but I think they are resigned to it," Gordon said in a phone interview.

"We got a lot of families feeling very, very threatened by litigators looking at their farms to see if they can find a reason to sue," he said. "Financially, that would be the end of their farms. Just to defend yourself can be hundreds of thousands to over a million dollars. Even if the judge rules for me, I'm right but I'm bankrupt."
At a Thursday hearing in Olympia before the House Agriculture and Natural Resources Committee, environmental lobbyist Bruce Wishart said losing the right for citizens to sue to ensure permits are enforced harms communities facing pollution. In addition, the existing permit provides public access to farm manure management plans, but the proposed version would shield those documents from public review, he said.
The existing permit is known as the Confined Animal Feeding Operation General Permit. The permit is required under the federal Clean Water Act for any facility that has discharged pollution into surface waters, and it is administered by the Department of Ecology. Only 10 of the state's hundreds of confined feeding operations, or CAFOs, which include dairies and other large livestock operations, are currently permitted.
While the federal laws just address pollution to surface water, state law protects both ground and surface water, said Bill Moore, Ecology's water quality program manager.
That's why the agency is updating the existing combined permit to better protect groundwater — such as requiring soil sampling to ensure farmers who use manure as fertilizer don't apply too much and requiring every CAFO with a manure lagoon to get the permit.
But if the goal is to protect groundwater, the state has the authority to make its own regulations without invoking the authority of the federal Environmental Protection Agency, said Chandler and Sen. Judy Warnick, R-Moses Lake, who sponsored a companion bill in the Senate.
"I think livestock producers deserve a predictable and stable permit process, and I think it's best done by state folks," Chandler said.
Warnick, who grew up on a dairy farm, said farmers want to do the right thing. The permit should clarify what those right things are and protect the farmers that follow the rules, she said.
"I'm hoping that in this regulatory day and age, we can allow farmers to take care of their herds and the environment like my dad did," she said. "My ultimate goal is to protect the dairy farmers who are attempting to operate under the law from the potential of lawsuits."
Moore said that Ecology has already been looking at this idea of a dual permitting system. CAFOs that pollute surface water would still have to get the existing state-federal permit, but the vast majority could opt for the state-only permit because the content would be similar, he said.
"When we issue the combined, state-federal permit, all the groundwater requirements are based on state law, so I come to the conclusion that a state-only permit would be very similar," Moore said.
The legislation also directs Ecology to work with the state Department of Agriculture to develop and enforce the regulations, and Moore said that's already happening. The Agriculture Department oversees how dairies manage their manure and those manure plans are also part of Ecology's CAFO permit update.
But Ecology doesn't support the bill, special assistant to the director Kelly Susewind said at Thursday's hearing. He said that the agency already has the authority to adopt this two-permit system and it would rather make that decision during the permit process by working with stakeholders — industry and environmental groups.
Lead sponsor Rep. Eric Pettigrew, D-Renton, introduced the bill as a solution to water pollution.
"There is not one entity, dairy farmers or environmentalists, that want to see water go bad," he said at the hearing. "The question is, do you trust the state to do that, to protect water as it relates to dairy farms."
But the environmentalists testified against the bill that they don't want to lose the ability to sue to enforce permit regulations because they don't trust the state to enforce its own rules. They are especially concerned that the bill would give oversight to the Agriculture Department, an agency with the dual role of promoting and regulating farms.
Andrea Rodgers, an attorney with the Western Environmental Law Center, said that since lawmakers transferred enforcement of manure regulations to the Agriculture Department in 2003, pollution problems have gotten worse, not better.
As an example, she cited the Cow Palace lawsuit — the case in which a federal judge ruled that mismanaged manure at a cluster of dairies north of Outlook and Granger was polluting groundwater, posing an "imminent" threat to public health.
"Cow Palace was found liable for pollution, but it was fully regulated and inspected," by the Agriculture Department, Rodgers said at the hearing. "The facility did everything they were supposed to do under their Dairy Nutrient Management Plan and the pollution was massive. ... That's where we lose our trust."
The attorney who sued the dairies agreed.
"This is not a problem that is unique to Cow Palace. In fact, Cow Palace is probably one of the best-managed entities and it is a serious problem," Charlie Tebbutt said in a phone interview. "The WSDA had no clue and they didn't want to look."
Many farmers see the Cow Palace case as an example of how you can lose a lawsuit even if you are following the rules. That fear, Gordon said, makes the industry willing to accept more regulations if it also reduces the risk of legal battles that can put farms out of business.
"This (permit) is a reluctant next step," he said. "If what producers are being asked to do to protect groundwater is reasonable and I comply with the conditions of the permit, I'm going to feel more comfortable if I end up standing in front of a judge."
But it's not entirely clear if being covered under the proposed state permit would have prevented a lawsuit like the Cow Palace case, which was brought based on solid waste regulations, not clean water laws.
Tebbutt said the bill was about the industry trying to prevent accountability.
"The industry is trying to do everything it can to throw roadblocks in the way of citizen suits," he said. "This would limit the disclosure of information about how the industry is harming people, how manure is causing pollution."
Gordon said it's clear that the people who want to sue don't like the proposal, even though the actual permit protections for water would be the same.
"It's like saying they want the right to sue somebody for speeding because they don't trust the State Patrol," he said. "But litigation takes away time and capital that could be used to improve resource protection."
The Senate Agriculture, Water & Rural Economic Development Committee will hold a hearing on the bill on Tuesday morning.
---
By Kate Prengaman
This email address is being protected from spambots. You need JavaScript enabled to view it.