Three days conference
on Indian Dairy Industry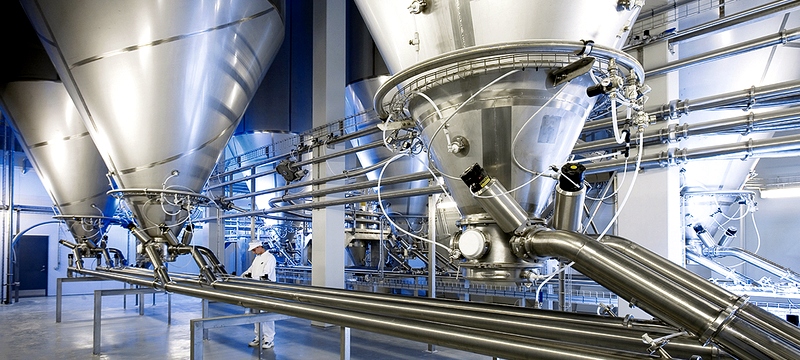 A three days conference was inaugurated at ICAR-National Dairy Research Institute (NDRI), Karnal on the theme "Dairying in India by 2030: Make in India".
The workshop was inaugurated by Sh. T. Nanda Kumar, Chairman, National Dairy Development Board (NDDB), Anand. Sh. R.S. Sodhi, Managing Director, Gujarat Cooperative Milk Marketing Federation (popularly known as Amul), Anand and Dr. Harjinder Singh, Distinguished Professor & Director Massey Institute of Food Science & Technology, New Zealand were the Guests of Honour. Dr. N.R. Bhasin, President, Indian Dairy Association, presided over the function. Other dignitaries present on this occasion were Dr. A.K. Srivastava, Director, NDRI; Dr. R.K. Malik, Joint Director (Research), NDRI; Prof. Paul McSweeney, Professor in Food Chemistry in the School of Food and Nutritional Sciences, University of Cork, Ireland and Sh. R.S. Khanna Vice-President, Indian Dairy Association (NZ).
Mr. R.S. Khanna welcomed the address and explained the activities of Indian Dairy Association (IDA). He said that IDA was established in 1948 and the main objective of the association is to work for the advancement of dairy science, industry, farming, animal husbandry in the country and to promote dairying as a part of Animal Husbandry activity in particular and agricultural farming in general for the benefit of livestock and agricultural farmers.
Dr. Bhasin in his presidential address said that as per estimates, the demand for milk is set to touch 200 million tonnes by 2020. Rising disposable incomes and population growth are the two main dynamics behind the increase in the demand. Value-added products would play a major role in the years to come and our production and quality has to keep pace with the rising demand. This year, the annual milk production has increased to 142 million tonnes. Expansion in herd size, as well as improved productivity, are important engines in the expansion.
On this occasion, Dr. Malik gave the details of the NDRI activity in the field of dairying and listed the achievements of NDRI such as development in cross-bred cows, advancement in functional foods, developing diagnostic kits for monitoring animal health as well as quality of milk.
Sh. Nanda Kumar as our economy is growing at 7-8%, dairy sector is bound to grow and main driving force is urbanization which will catapult the demand of processed milk. He cautioned that although we are number one in milk production, but in India about 15% of the population is undernourished, and there is 5% morbidity in children below the age of 5 years. He stressed that dairy development in the country can help alleviate the malnourishment in the country and that too in rural India. He said that in a survey done by NDDB, out of 15 crore rural women, one crore women expressed to take livestock rearing as profession. In the same survey, it was also proved that, the rural families having dairy animal have 3 times better nutrition than non-dairy families.
Sh. Sodhi said that by 2050, about 50% of the Indian population will start living in urban area in contrast to present 30%. He said that at that time the challenge would be to feed such a huge population living in cities will less man power and less animals. He listed that 5 major challenges faced by dairying in India which include:
adulteration of milk
lack of value addition in milk by processors
unnecessary controversy of cow vs buffalo milk
loss of interest in rural youth in dairying as profession and
flow of milk and milk products from other countries in the name of free trade agreement.
He said that Government should not allow free trade agreement in diary sector. He paid rich tribute to Dr. Vergehese Kurien, Father of Milk Revolution who not only made India self-sufficient but also number one in milk producing nation of the world.
Later, Dr. Srivastava while talking with said that as a corollary to the national mission announced by Hon'ble Prime Ministers of India, the theme of the Conference has been very aptly chosen as "Dairying in India by 2030: Make in India". This will give impetus to local manufacturing of equipment's and machinery while adhering to quality standards. Besides, the conference would give an opportunity for popularization of indigenous dairy products as well as healthy and designer foods.
The world is looking at us and we need to perfect these indigenous technologies to cater to the needs of local population besides foreign markets. Continuous increased demand of milk and milk products will generate more jobs in dairy sector. Ultimately all this will have favorable impact on improving income of dairy farmers and empowering women. Currently, India's share of global trade in dairying is less than 1% despite it being the largest producer of milk in the world. It is still a challenge as to how to enhance our share in the world dairy market. Low productivity of lactating animals is also of great concern to us.
Prof. Mc Sweeney, an expert in cheese science said that there is huge potential for the growth of cheese industry in India as the urban population is rising. He said that present growth rate of cheese industry in India is 15% per year which is primarily driven by young demography and growing urban middle class. As the 80% of the cheese consumed in India is processed cheese, there is huge opportunity for the development of cheese industry in other cheese varieties.
Later on, outstanding rural women entrepreneur who contributed in the field of dairying were facilitated by the Chief Guest. The conference is being attended by more than 2500 delegates from the country and about 100 delegates are from various countries including USA, Russia, UK, Ireland, Coratia, Australia, New Zealand etc.
During the occasion, Mr. A.K. Sharma, organizing secretary proposed vote of thanks.